Far away from when TabletPCs which are developed under the standization by Microsoft Windows had released, IBM Japan had manufactured several types of Touch panel computers such as "PS/55 T22sx", "Type2435", "Type9103", ThinkPad360P and ThinkPad710 for enterprise use. ThinkPad 730TE is a successor of 710.
But now, There are no informations and device drivers for ThinkPad730T on IBM and Lenovo site.
According to the documents on some web sites says that this is the Japanese domestic model. But someone says that he saw some geographic investigator groups or explorers of historic ruins use this computer outside, so it might export other countries.


It doesn't have any user interfaces except magnetic touch pen screen panel.
Although it was developed for handheld use, it's bigger than today's pure TabletPCs. On top picture, the LCD desktop display on ThinkPad730's back is 19inch SXGA.
Tap switches under the panel are Beep, Contrast, Backlight on/off, Positive/Negative, and suspend/resume.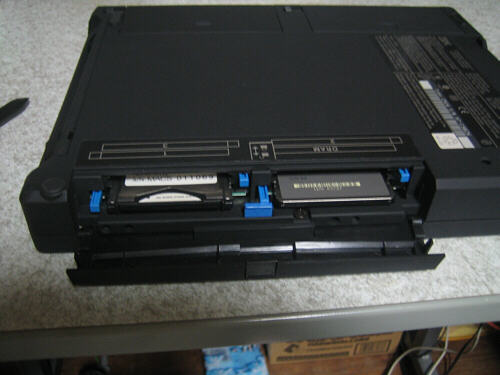 Left(maybe upper?) side of 730TE.
It has 3 PCMCIA slots and DRAM slot.
Ejecting botton of DRAM is locked another latch so that a operator may not eject it during the system is in operation(that may cause serious damage on system).
This PC has no internal storage, but is bootable from PCMCIA storage devices. 260MB Type3 HDD is served on standard model and Windows 3.1 for pen computing 1.1 is pre-installed.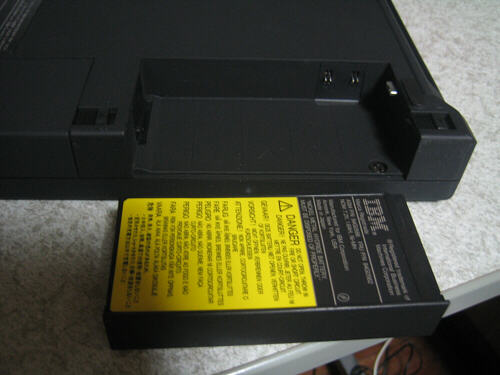 2 battery slots is on right(bottom) side of 730TE.
Battery packs are 7.2V of Ni-MH. they must make 730TE so heavy.

Battery pack has six 1.2v Ni-MH cells.
When I got 730TE, the performance of its pack fell down. So I tried to refresh cells.
I discharged each cell connecting to a cell to a midget lamp first, and then charge again to each cell by Ni-MH battery charger.
The operation time with my battery pack expanded just a little bit longer by the refreshing operation.
It is much more effective for a pack that is new and doesn't use for a long time.

Port replicator of 730TE.
I'm not sure whether hot plug is enable or not. Infering from the year when 730TE was developed, connection or disconnection of port replicator during power is on may cause damage the system.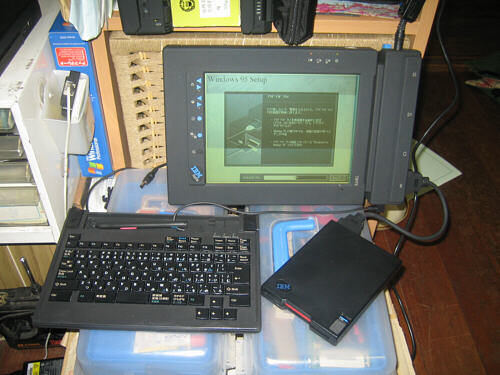 Installing windows95.
Magnetic stylus panel is enable with its BIOS. PS/2 keyboard and FDD for ThinkPad 7xx series can connect to 730TE via port replicator.
You may install operating system from CD-ROM if you have a PCMCIA I/F card, a CD-ROM drive, device driver for MS-DOS, and CD extension(MSCDEX.exe).
This thin keyboard is for IBM PS/55 T22sx.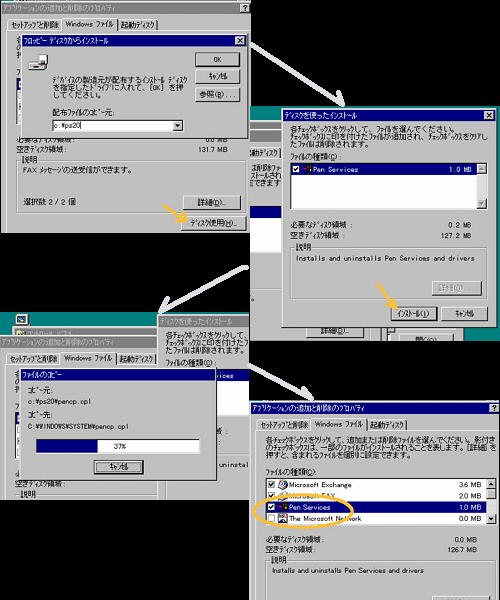 Originally, Windows95 doesn't provide pen service software. You need pen service software to operate magnetic stylus panel on Windows95.
English version of Pen services for Windows95 2.0 is on some web site.
You can install it as follows:
[Start]->[Settings]->[Control Panel]->[Add/Remove programs]->[Windows file]->[Have disk(H)]->setup from:[source folder]->ok.->[Install(I)]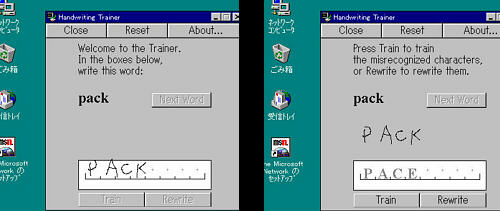 Pen services for Windows95 provides "Handwriting trainer".
Handwriting recoginition software on that day is on its developement day, so its performance is not enough to use as a handwritng pen computer.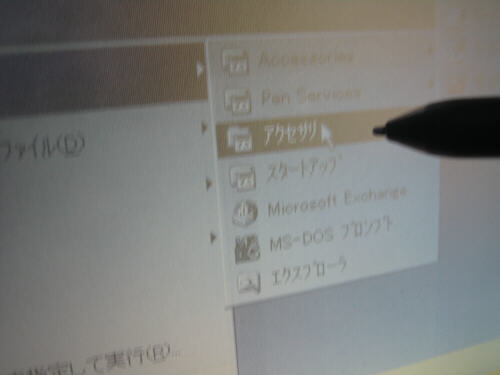 As told above, 730TE's panel work as a pointing device with its magnetic stylus and doesn't operate by finger tap.
I like magnetic type more than resistance film touch panel because every non-intentional touch can be recognized by resistance film panel and that cause misoperation of the system.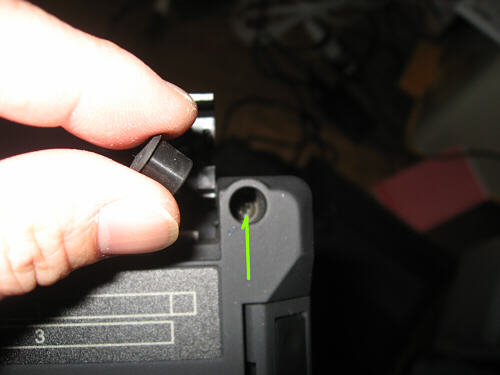 desembling ThinkPad 730TE:
First of all, loosen 5 screws on the bottom. 3 screws are on the battery slots, and other 2 are hidden under the rubber feet on the other side of battery slots.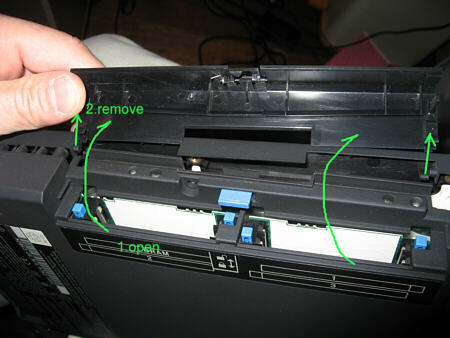 Open PCMCIA/DRAM slot cover and remove it.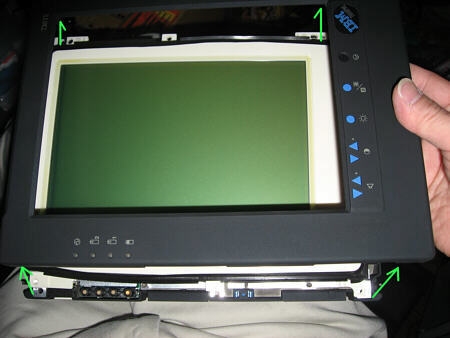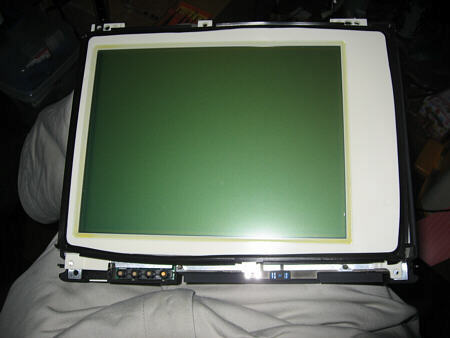 Then the top cover can be removed.
Rubber insulator(cushion?) surrounds the LCD panel. its directions of putting in is specific with its projections and the slits of LCD panel.

Anti-magnetic panel is under the LCD panel. it's fastened with 3 screws. Loosen them.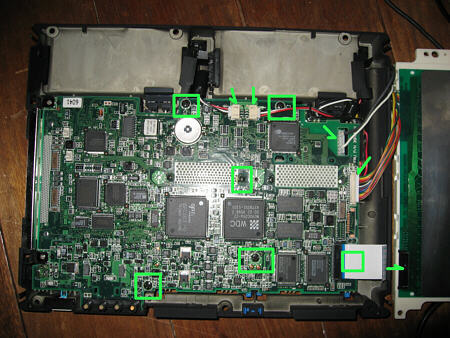 System board appears under the anti-magnetic panel.
System board is connected with LCD panel by flat cable, serial cable and backlight power cable, with battery slots by a pair of cable, and is fastened with 5 screws. Loosen them.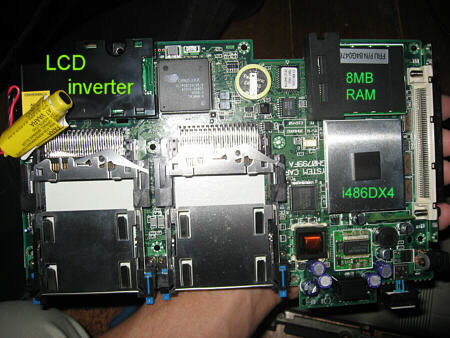 bottom side of system board.
CPU unit, DRAM unit and LCD backlight inverter unit are connected. PCMCIA/DRAM slots are on board.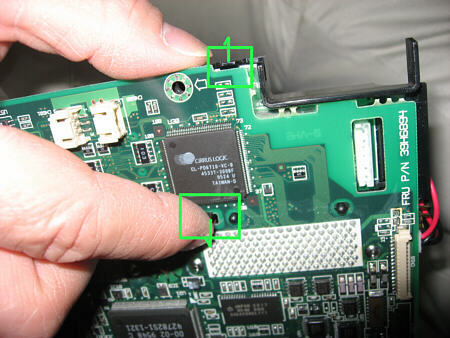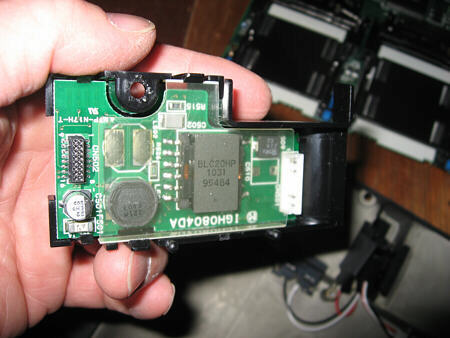 Only inverter unit is fastened to system board with two latches. Release them and then the unit is removed.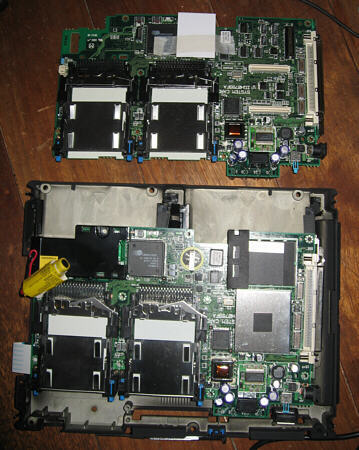 My ThinkPad 730TE can't turn on the power because of disorder of its system board. So I had looked for a assy for a long time and got it at last.(the board that is upper on this picture)
Although the FRU# of two system boards are the same, vendors of several chips on board are different.
But it works correctly.


Others:

IBM in town
My ThinkPads